nyc

BigCityL

i

t

.com

the rivers of it, abridged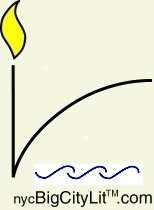 Poetry


Spring 2013
Marjorie Maddox
Photographing the Spa for the Color Brochure
Without us, it is ugly:
waterfall encased in gray
siding, man-made cascades
before calves submerge
to denial. The photographer stages
his display of mums, amber towels,
a plump pumpkin for October's brisk
promise of nature tumbling
into bubbling obedience. Then more
tricks: ladders, extension cords, extra lighting.
FLASH he's transformed summer
patio furniture into cozy
conversational nooks complete with hot
chocolate and toddies; the promised comfort
of terry-cloth. Of course, heat rises
into mist and mystery,
to the still shot that sometime soon
will sell our fabricated lives to suburbanites
who add muscles and limbs,
ordinary torsos, finally
completing the picture
that waits, a little impatiently,
to develop.
Back to Poetry