nyc

BigCityL

i

t

.com

the rivers of it, abridged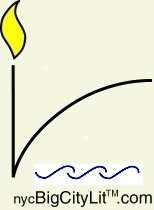 Poetry:
On Balance: Walking Ten Miles Home: This Fall's 2013 to Spring's 2014 poetry collection includes work by Holly R. Appling, Eileen Brilliant, Patricia Brody, Rosalie Calabrese, Patricia Carragon, Robert Klein Engler, Allen C. Fischer, David Francis, Elisabeth Frischauf, Maria Gregorio, Joanne Grumet, Patrick Henry, Kate Irving, Katrina Kostro, Lola Koundakjian, JKL, Richard Levine, Marina Mati, Michael Morical, B. Z. Nidtich, Eve Packer, Anne Elezabeth Pluto, Jared Smith, Raleigh Thompson,
Melinda Thomsen, and Barry Wallenstein.
Twelve:
Big City, Little:
Shiela e. Black: Re-Mix: To My Brothers and Sisters Living in the West
Fiction:
Roy Robins, Six Stories
Thaddeus Rutkowski, Absent Without Leave
Articles:
Richard Levine A City Story of Residential Radon, Natural Gas and Lung Cancer
Christopher Cappelluti, The Recorded Poetry of Barry Wallenstein
Essays:
Robert Klein Engler, Inaugural Poetry, Clinton and Benghazi
Patrick Henry, Strategy at Red Star Belgrade, excerpt from Facing the Music
Natasha Lvovich, Renamed and Deleted
Reviews:
George Drew on Bouncing The Rubble: The Unearthing of Juan J.Morales: Friday and the Year That Followed
Pamela L. Laskin's Plagarist, reviewed by Melissa Thomsen
Bookshelf:
Kate Irving, Raising the Arsonist's Daughter from the Dead
Quitman Marshall, You Were Born One Time
Richard Levine, The Cadence of Mercy
Patricia Brody, Dangerous to Know
CDs:
Raleigh Thompson: Chemistry
Field Report: Field Report
Cory Branan: Mutt
Various Artists: Farewell Transmission: The Music of Jason Molina
Events:
Ronnie Norpel's Tract 187 Culture Clatch
The eclectic variety show featuring poets, prosers, actors, comedians, singers, tap dancers, hula hoopers, and musicians
The West End 955 WEA @ 107th St. (#1 to 103)
First & third Wednesdays - 6-9:00 pm
Sponsored by: www.adlibpub.com
Letters:
Big City Lit welcomes letters from its readers. Address correspondence to Editors@nycBigCityLit.com
Print Series:
All Print Series Suspended
Contests:
For the present, all Contests suspended.
Masthead Notes:
We welcome Melinda Thomsen as a Contributing Editor of the magazine.
Contributing Editors:
Martin Mitchell, Barry Wallenstein, James Ragan, Patrick Henry (UK), Diana Manister, Margo Berdeshevsky, George Wallace, Larissa Shmailo, Brant Lyon, Melinda Thomsen