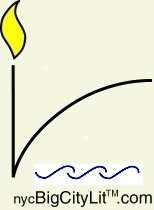 Contributor Notes


Fall 2013 / Spring 2014
Holly R. Appling lives in Canada. Her writing has appeared in publications such as QWERTY, Carousel, Leaf Press, Ideomancer, The Round Magazine and previously in BigCityLit.
Sheila e. Black has published poetry in a number of poetry journals and magazines; her most recent publications were in Futures Trading, BigCityLit, Truck, Otoliths, and The Living Arts Center Journal of Art and Writing. Sheila is a Professor of English Literature at Tulsa Community College. She performs her prose poems in the annual Spoken Word Avant Garde Show at the Tulsa Living Arts Center and in another program there focusing on young people performing in the Spoken Word style, called "Identify Yourself." She is also developing a poetry and visual arts program for the summer of 2014 titled, "Enlightened Aging, "a show that will center around the more unique ways the elderly are participating in their aging process in the 21st century.
Eileen Brilliant is the author of four chapbooks: Far Across Language, As If Is Not Is, There Is No Other and The Mother The Father. Her poems have appeared in Skidrow Penthouse and Nomads' Choir among other publications. She taught writing for many years at Baruch College. She lives and writes in New York City.
Patricia Brody's American Desire won Finishing Line's 2009 New Women's Voices Award. Dangerous To Know was published by the Irish press Salmon Poetry in 2013. Brody's poems have appeared in various journals including Barrow Street, The Paris Review, Poetry Daily and BigCityLit, as well as the anthologies The International Journal of Feminist Politics and Chance of a Ghost.
Rosalie Calabrese lives and works in New York City, where she is a management consultant for the arts. In addition to press releases and poetry, she writes short stories and books and lyrics for musicals. Her poems have appeared in magazines, journals, newspapers, anthologies, and on the Web. Among her major credits are Cosmopolitan, Poetry New Zealand and The New York Times. She is listed in the Poets & Writers Directory.
Patricia Carragon loves cupcakes, chocolate, cats, haiku, and the borough of Brooklyn. Her publication credits include Best Poem, BigCityLit, CLWN WR, Clockwise Cat, Danse Macabre, Inertia, Lips, The Long Island Quarterly, Marymark Press, Mad Hatters' Review, The Toronto Quarterly, and others. She is the author of Journey to the Center of My Mind (Rogue Scholars Press, 2005) and Urban Haiku and More (Fierce Grace Press, 2010). She hosts the Brooklyn-based Brownstone Poets and is the editor-in-chief of its annual anthology. Patricia is a member of Brevitas, a group fiercely dedicated to short poems. For more information, please check out her websites: http://brownstonepoets.blogspot.com and at http://patriciacarragon8.wordpress.com/.
Christopher Cappelluti has contributed fiction and non-fiction to Anamesa, American Book Review, Berfrois, and the Weird Fiction Review. In 2012, his MA thesis presentation, "The Many Faces of Ulysses: Joyce and Dante Rewrite Tradition," won grand prize at the NYU GSAS Threesis Academic Challenge. Christopher currently works at the NYU Expository Writing Program and lives in Brooklyn, his native borough, where he is at work on a novel.
George Drew was born in Mississippi and raised there and in New York State, where he currently lives. He is the author of five collections of poetry, most recently The View from Jackass Hill, the 2010 winner of the X. J. Kennedy Poetry Prize, Texas Review Press, 2011. His reviews and essays have appeared in Louisiana Literature, FutureCycle Off the Coast, BigCityLit and The Texas Review. Recently several of his poems appeared in Birchsong: Poetry Centered in Vermont, and he has poems currently in or upcoming in I-70 Review, Henry, Louisiana Literature, Naugatuck River Review, The Nassau Review, Atticus Review, and Gargoyle Magazine.
Robert Klein Engler lives in Des Plaines, Illinois and sometimes New Orleans. Many of Robert's poems, stories, paintings and photographs are set in the Crescent City. His long poem, The Accomplishment of Metaphor and the Necessity of Suffering, set partially in New Orleans, is published by Headwaters Press, Medusa, New York, 2004. He has received an Illinois Arts Council award for his "Three Poems for Kabbalah." If you Google his name, then you may find his work on the Internet. Link with him at Facebook.com, to see examples of his recent paintings and photographs. Some of his books are available at Lulu.com. Visit him on the web at RobertKleinEngler.com. Mr. Engler is represented by OnView Gallery, 139 N. Northwest Hgy, Park Ridge, IL, 224.585.0503. web: RobertKleinEngler.com
THROW ME SOMETHIN', MISTER:
http://borderhopping.net/writing/throwmesomethinmister.html
SHIRTS OF FLAME
http://www.bigcitylit.com/spring2011/articles/articles.php?page=engler
INTERVIEW:
http://adirondackreview.homestead.com/interviewengler.html
JANE CROWN RADIO INTERVIEW:
http://www.blogtalkradio.com/The-Jane-Crown-Show/va/2009/02/22/robert-klein-engler
Allen C. Fischer brings to poetry a background in international studies and business - previously a director of marketing for a nationwide corporation. A past contributor to BigCityLit, his poems have appeared in Atlanta Review, Indiana Review, The Laurel Review, Poetry, Prairie Schooner and Rattle.
David Francis has produced three albums of songs, one of poems, ALWAYS/FAR, a chapbook of lyrics and drawings, and two films. His poems and stories have appeared in a number of journals. www.davidfrancismusic.com.
Elisabeth Frischauf is an active poet, physician and artist. Outside of medical publications, she is the author of the lyrics script for "Let's Talk about AIDS," an educational video produced by Carol and Abbie Fink of Sister Film which won first place at the NY Film Festival Educational Division and Blue Ribbon at the American Film Library Association in 1992. She has also written the libretto for a children's opera, "The Magic Shop." Her essay and poetry related to "The next Generation Speaks," were presented and published (Czernin Verlag) in November 2003 at the Erich Fried Symposium, Vienna Austria. Dr. Frischauf has been an active member of the Barnard College Center for Women workshop "Seeking Your Voice" with poets Patricia Brody and Eva Oppenheimer.
Maria Gregorio's work has appeared in Voices of Brooklyn (Face to Face Press, 2000), New Trespass Magazine UK, Kalyani Magazine, and TRIVIA: Voices of Feminism. Her work is forthcoming in great weather for Media's annual anthology. Maria has performed as a feature poet in numerous venues throughout New York City and London. She lives in Queens.
Joanne Grumet has always been fascinated with language and started her career as a dictionary editor and later taught Linguistics. She currently teaches writing and writes poetry and songs. She has been the featured artist on the TV show "The Song" which was devoted to her poetry and music. Her poetry can be found at BigCityLit, Jewish Women's Literary Annual and Poetry Quarterly, and her songs can be heard at www.myspace.com/joannegrumet
Patrick Henry: Born 1938, Yorkshire, England, Irish parentage. Customs Officer London, Royal Airforce Draftee, Cyprus, 1957-59. Wrote poetry in London, Paris, Cornwall; worked construction, farming, factory, café, bookshop jobs. Published On the Track, Peterloo Poets 1971. Published translations of Fruits of Winter, Prix Goncourt, 1970 and Women of The Celts, Cremonesi, 1975. Adult student at University of Wales, University of East Anglia, Trinity College, Hartford, Connecticut during 1980s. Painting exhibition Paris, 1998. Poetry Reading Tour in New York 2001 arranged by BigCityLit. Painting Exhibition, Australia, 2003. Poetry Reading and Painting Exhibition tour New York State, 2004, arranged by The Author's Watermark and Poets & Writers. Poetry and prose featured in BigCityLit and in www.thisisull.com (UK website), 2001-2007. He is a contributing editor of the magazine.
Kate Irving grew up in New York City where she studied art and theater. She took a hiatus from early poetry writing to make her living as a studio singer then raising a family. Kate later returned to studying and writing and her poems have previously appeared in BigCityLit.com, Live Mag! NYC, Over the Walls, Plush, Press 1, qaartsiluni, Stained Sheets, Tamarind, What Comes Next, and White Rabbit. Her book "Raising the Arsonist's Daughter from the Dead" was published by Finishing Line Press in June 2014.
"JKL" is a rock band from Atlanta. We enjoy the travels of excess, creativity, water polo and police repression.
Katrina Kostro, born and raised on New York City's upper-Upper West Side, composes poetry while she sings, swims laps, cross-country skis, DJ's The Moonshine Show on WKCR-FM, and conducts clinical research at New York Presbyterian's Columbia University Medical Center. Her poems have appeared in Letters to the World: Poems from the Wom-Po LISTSERV and Columbia University's literary/art journal, Tablet.
Lola Koundakjian, a long time resident of New York City, writes in Armenian, her mother tongue and in English. She has organized evenings dedicated to the Dead Armenian Poets' Society since her university days, and has curated the online Armenian Poetry Project since 2006. www.lolakoundakjian.com
Richard Levine, an activist working to ban fracking in NYS, is the author of The Cadence of Mercy (Finishing Line Press, 2014), That Country's Soul, A Language Full of Wars and Songs, Snapshots from a Battle, and A Tide of a Hundred Mountains. Bread, a poem from the new book, was recently featured in American Life in Poetry, former Poet Laureate Ted Kooser's column. Levine's "The Talkin' Frackin' Blues," is on You Tube, https://www.youtube.com/watch?v=2QCrTfxOBRo
Natasha Lvovich is a writer and scholar of bilingualism and of translingual literature—literature written in non-native language. Originally from Moscow, Russia, she teaches at City University of New York and divides her loyalties between academic and creative writing. She is an author of a collection of autobiographical narratives, The Multilingual Self, and of a number of articles and essays. Her creative nonfiction appeared in academic journals (Life Writing, New Writing), anthologies (Lifewriting Annual, Anthology of Imagination & Place) and literary magazines (Post Road, Paradigm, Nashville Review, Two Bridges, bioStories, NDQ, Epiphany). One of her essays has been nominated for a Pushcart Prize.
marina mati (aka Marina Penzner,) poet and actor, has been featured in her native New York City and throughout the Hudson Valley, where she now lives and works, at such venues as Maxwell's in Hoboken, Woodstock Poetry Society and the Howland Cultural Center in Beacon. She is published in the Napalm Health Spa of the Modern American Poetry site, the Northeast Center for Poetry's Wawayanda Review, and Heyday Magazine among others. She co-produced and hosted a poetry series in the West Village at Speakeasy that featured such notables as Hal Sirowitz and Sapphire, and has also produced other events such as Poets' Theater at the Seligmann Center for the Arts. Marina participated in the global event, A Hundred Thousand Poets, that could be viewed live online along with a hundred thousand other poets in dozens of other countries. She almost didn't graduate with a BA from the City College of New York. Marina is available to perform her work where her chapbook, cave-speak, published by Mongrel Press, and her CD, preservation, produced by Mike Jurkovic, are available.
Michael Morical is a freelance editor in Taipei. He is busily submitting his first full-length manuscript, Fireflies in Sunlight. He studied with Marilyn Hacker and other fine poets at City College before he moved to Taiwan. His chapbook, Sharing Solitaire, is available from Finishing Line Press.
B.Z. Nidtich is a poet, playwright, fiction writer and teacher. His work is widely published in journals and magazines throughout the world, including: Columbia: A Magazine of Poetry and Art, The Literary Review, Denver Quarterly, Hawaii Review, LeGuepard (France); Kadmos (France); Prism International, Jejune(Czech Republic), Leopold Bloom (Budapest); Antioch Review; and Prairie Schooner, among others. He lives in Brookline, Massachusetts.
Eve Packer: Bronx-born, poet/performer, has appeared widely, solo, w/music, in theatre and dance. She has received grants from NYSCA, NYFA, the NEH, Puffin Foundations, and awards from Time to Consider: the Arts Respond to 9/11, also from the Chester H. Jones Foundation, Downtown and Conceit Magazines. She has published three poetry books: skulls head samba, playland poems 1994-2004, and new nails (2011) (Fly By Night), and has 4 full poetry/jazz CD's, and first and last with saxophonist Noah Howard; in 2013 she released my champagne waltz with pianist/vocalist Stephanie Stone and multi-instrumentalist Daniel Carter. Lives downtown and swims daily.
Donald Hall: 'I salute her as the Weegee poet…' (Ploughshares, spring '05)
Stephen Wolf: 'This NY woman's poems are fun, thrilling, provocative, her wit, sharp as stiletto heels, seeing her perform is even better…' (The Villager)
Anne Elezabeth Pluto is Professor of Literature and Theatre at Lesley University in Cambridge, MA where she is the artistic director of the Oxford Street Players. She was a member of the Boston small press scene in the late 1980s and started Commonthought Magazine at Lesley 24 years ago. Her chapbook, The Frog Princess, was published by White Pine Press. She has been a participant at the Bread Loaf Writers' Conference in 2005 and 2006. Her ebook, Lubbock Electric, was published by Argotist ebooks in 2012; the publisher is offering a free download: http://www.argotistonline.co.uk/LUBBOCK%20ELECTRIC.pdf.
Roy Robins is a writer based in Cape Town, South Africa. He writes regularly on politics for South African newspapers. His articles and reviews have appeared in Foreign Policy, the New Statesman, the Observer, Rattle, and Poetry International. His fiction has appeared in various anthologies. He was formerly an editor at Granta magazine.
Thaddeus Rutkowski is the author of the novels Haywire, Tetched and Roughhouse. All three books were finalists for an Asian American Literary Award, and Haywire won the 2013 Members' Choice Award. His writing has appeared in The Outlaw Bible of American Poetry, The New York Times, The International Herald Tribune, Fiction, Fiction International and many other publications. He recently received a fellowship in fiction writing from the New York Foundation for the Arts.
Victoria Salvador is a freelance illustrator and artist, based in NYC. BFA in Illustration from Parsons The New School for Design. Creates anything from show posters and album covers, to skate decks and greeting cards. She enjoys live music, arts & crafts, petting animals, and optical illusions. Please feel free to write: snapsnapbeepbeep@gmail.com Web site: http://victoriasalvador.com/
Jared Smith's 11th book of poetry, To The Dark Angels,will be released this fall by NYQ Books. His poetry, literary commentary, and craft essays have been published in hundreds of journals in the U.S. and abroad. He is a Board Member of The New York Quarterly, and Poetry Editor of Turtle Island Quarterly. He has served on the Editorial Boards of Home Planet News, The New York Quarterly, The Pedestal Magazine, and Trail & Timberline. A former New Yorker and technology researcher who has advised the National Labs and The White House, he lives now in the mountains of Colorado.
Raleigh Thompson is a songwriter, composer, poet, and artist. Her publications include work in Three Mile Harbor and BigCityLit. A sample of her music can be heard on CD BABY.
Melinda Thomsen's poetry and book reviews have been published or are forthcoming in journals such as Poetry East, Big City Lit, New York Quarterly, Home Planet News, Elysian Fields Quarterly, Heliotrope and The Same. Poems in anthologies include Blues for Bill: A Tribute to William Matthews, Spring from Gatehouse Press Ltd., Great Britain and Token Entry: New York City Subway Poems from Smalls Press. Her two chapbooks Naming Rights and Field Rations are from Finishing Line Press.
Bonnie Walker is a writer, lawyer, teacher, and photographer who lives and works in New York City. She holds degrees from Bryn Mawr College, the Graduate School and University Center of the City University of New York, and the University of Michigan Law School. Her writing has appeared in BigCityLit, Everyday Fiction, and the ABA Journal E-Report. One of her personal essays will be published in a forthcoming issue of The Same. She is currently at work on a book-length memoir.
George Wallace is Writer in Residence at the Walt Whitman Birthplace (2011-present), first poet laureate of Suffolk County NY, and author of 28 chapbooks of poetry. An adjunct professor with the English Department at Pace University in Manhattan, he is editor of Poetrybay, Poetryvlog, Walt's Corner, and co-editor of Great Weather For Media and Long Island Quarterly. He maintains an international tour schedule, regularly offering readings, workshops and lectures across the US and in the UK.
Barry Wallenstein is the author of seven collections of poetry, the most recent being Drastic Dislocations: New and Selected Poems [New York Quarterly Books, February 2012]. His poetry has appeared in over 100 journals, including Ploughshares, The Nation, Centennial Review, and American Poetry Review. His 1971 analytical text Visions & Revisions: The Poets' Practice [T.Y. Crowell], was reissued in a new and expanded edition by Broadview Press [2002].
Among his awards are the Poetry Society of America's Lyric Poetry Prize, (1985), and Pushcart Poetry Prize Nominations, 2010, 2011. He has had resident fellowships at The MacDowell Colony (1995), Hawthornden Castle in Scotland (1999), Fundación Valparaiso in Spain (2008) and Casa Zia Lina on Elba, Italy. Between June 2002 — June 2008, he was part of the poetry faculty at the Bear River Writers' Conference in Upper Michigan.
A special interest is the presentation of poetry readings in collaboration with jazz. He has made seven recordings of his poetry with jazz, the most recent being Lucky These Days, to be released by Cadence Jazz Records in April 2012. A previous CD, Euphoria Ripens, was listed among the "Best New Releases" in the journal, All About Jazz (December 2008).
Barry is an Emeritus Professor of Literature and Creative Writing at the City University of New York and an editor of the journal, American Book Review. In his capacity as Professor of English at City College he founded and directed the Poetry Outreach Center, and for 35 years coordinated the all-inclusive citywide Annual Spring Poetry Festival. He remains an active advisor and participant in the program. www.barrywallenstein.com.